Féleth is ready as they'll ever be with Divine Blight! Coming out 11 November on Rob Mules Records!
Divine Blight is the next upcoming album from Féleth from Alta, Norway – a beautiful quintet consisting of a joyful bunch of musical boys who play what they themselves call «technical deathrock».
They debuted in 2020 with Depravity which was highly praised both nationally and internationally with strong reviews, but due to the pandemic there were neither any tours nor gigs for the group. However, the pandemic did not stop the boys from reaching an even higher level for their second album Divine Blight.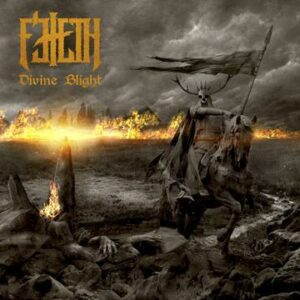 With Divine Blight the boys step a bit out of their previous death/thrash sound and into something that is more modern and even more melodic than before, but still within the reach of the sound they've already established for themselves.
What you'll find that Féleth have refined upon with this new release is mainly song structures, complimenting blasting beats with new and improved hooks leading too far more memorable melodies and headbangable tunes. Returning fans will find a new and unique experience, while distinctly retaining the core tone of Féleth.
Band photo by Dánil Røkke
Cover art by Kahinienn Graphix
Follow Féleth on Facebook